In the past few weeks I've been working on a few projects. The one out of the "norm"for me was creating some custom baby clothing. The request was for a warm outfit with a hood, and a sleeper sack. Tattoo themes preferable. Here's what I came up with: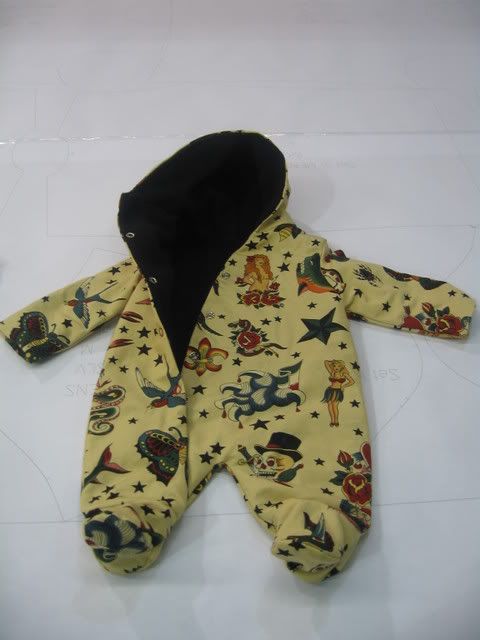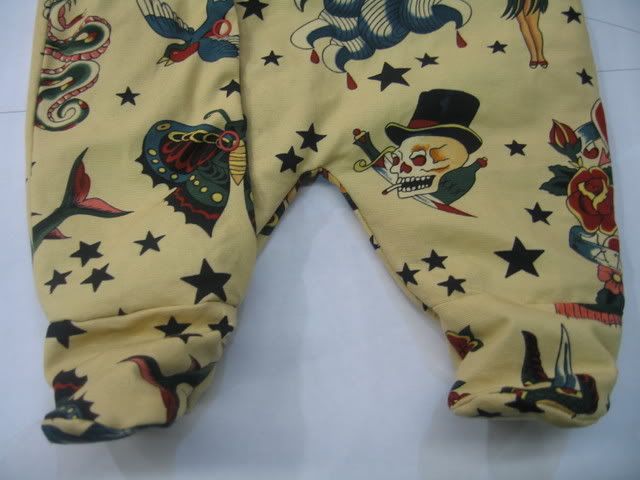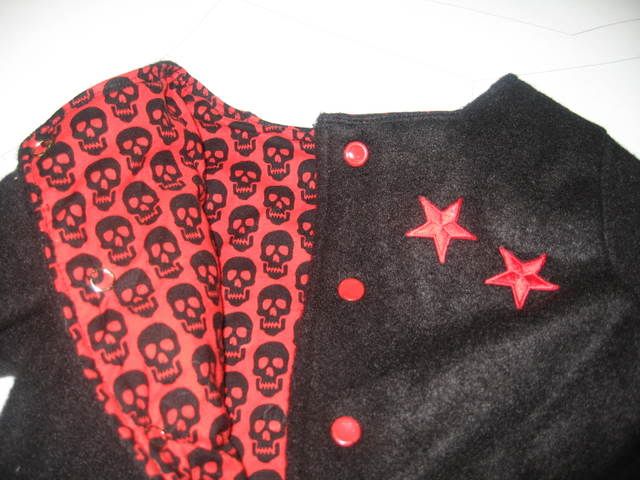 Not too shabby for my first infant clothing. They were happily received, and this could be an ongoing thing. Had a lot of fun making the clothes and picking out the fabrics. I made sure to get the no pill black fleece, and fabrics that would be durable and comfortable. I hadn't used snaps in a while, so I purchased the hand tool, and would not recommend it. The snaps kept getting stuck and the prongs bent outside of the bed they were to go in. I decided that this was due to the fact I was snapping through fleece and fabric. I ended up using a combo of it, and one of my Dad's hammers. Next time I'll use the snap machine at my work.
I have also been working on my line for
Doomtown V
. This is the 4th year I have done the show, and it is my favorite fashion event to be involved in. This year it will be at the
Fez Ballroom
on February 29th.
Shut Up and Dance
to follow. Sorry, no sneak peaks of what I'm working on, you'll have to go to the show. All I can guarantee is that it will be fun.
Lastly I have been slowly developing my late spring/summer line for
Clair
. Right now I have 3 tops ready. I am still deciding on the merchandise mix I would like to offer. This collection is a lot more piece based, which is what I tend to lean towards, since I like variety. Hopefully I will have some photos up soon of my goods and where to purchase. Right now I'm shooting for May to have items in stores.
I'm always up for custom garments, so if you are interested please don't hesitate to contact me.